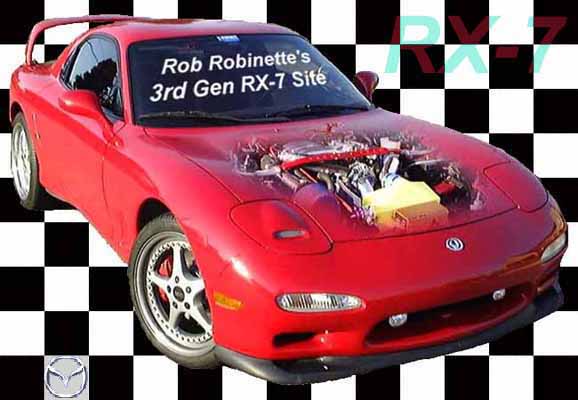 You've accessed the Authorized Rob Robinette's 3rd Gen Site ARCHIVE

Rob Robinette sold his car in July 2000 and I (John Schubert) have become the site owner of this data. It will remain as Rob intended, as a public service to RX-7 owners.
Please email me with any comments or changes.
If you're interested in the latest

RX-7 then you've come to the right place. Rob Robinette's 3rd Gen Site is offered as a public service for the RX-7 community. It's full of information about improving and maintaining the 93-99 RX-7. If you're new to the RX-7 then start with RX-7 Definitions and Modification Pros & Cons. There's lots of FAQ type general information in the Notes and Engine Notes sections. Are you looking to buy a used RX-7? See the Buying a Used RX-7 How To. I highly recommend you join the RX-7 E-mail list. If you get lost you can Search this site or see the Site Map.
When you're ready to modify your RX-7 see the How To and Engine How To sections.
Disclaimer: By accessing this website, you agree to hold harmless the author from any and all consequential or inconsequential losses or damages you may incur while performing any of the modifications or activities described herein. These Projects are for educational purposes only. So, if you blow your engine after installing a manual boost controller or if you get a ticket for running an illegal exhaust, you have only yourself to blame.

This page has been accessed
times.