I did this section because I'm always curious about who's behind the web site and what kind of a person allows a sports car to consume all their free time. . .
I'm a Major in the US Air Force and I love cars and motorcycles. I also own an 86 Suzuki GSX-R750 (bought it new in 87, it's painted Vintage Red to match the RX-7, has K&N intake, exhaust and carb jet kit), a highly modified 92 Suzuki DR 350 dual sport (dirt/street) and a 98 Honda Civic HX CVT (Continuously Variable Transmission). My wife Peggy drives a 99 BMW 528i (she doesn't like to drive the RX!).
My first car was a new 1980 Mustang Turbo Cobra. As a college senior in 85 I bought an 83 Porsche 911 Super Carrera. That was a great car for college and pilot training. I got married in 88, sold the Porsche and got an 88 Honda CRX. When the CRX was totaled by a woman who ran a red light I replaced it with an 88 Nissan 4x4 pickup. I got tired of the 4x4 and replaced it with the Civic.




The Lockheed C-141B Starlifter
I earned an FAA Aircraft Mechanic rating while in high school, flew helicopters in the Army, was a pilot member of the 1981 World Champion United States Helicopter Team and then moved to the Air Force to pilot the F-15 Eagle fighter, C-141 Starlifter heavy cargo hauler, and instruct in the T-41 and T-3 trainers. I'm currently flying a second tour in the C-141 at McGuire Air Force Base in Southern New Jersey.

GSX-R750


The Wife's car

My Daily Driver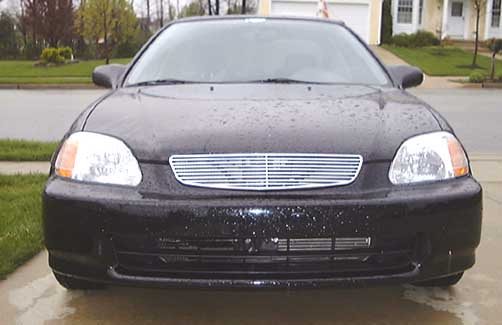 The Daily Driver's Engine Bay

Most of the photos on this site were taken with the Fujifilm MX-700 digital camera.